Memory box
Memory Box Find a big strong box with a lid and put in it all the things that remind you of the person who has died.
Don't worry if they are silly things – they are things that help you to remember. Include things like photos, letters, pictures, even a tin of beans – anything at all!

Pictures
Pictures Don't worry if you aren't good with words or writing – you can always draw or paint a picture instead. Use pencils, felt tips, paint, gel pens, wax crayons – whatever you like.

Letters
Letters You may have things you wish you had been able to say to a loved one or new things that have happened that you would like to be able to tell them.
Write a letter and put it in an envelope in your memory box. Try writing a poem or words to a song.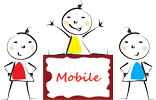 Mobile
Start to make a mobile to hang in your room. Add a star or a butterfly (anything you want) every time you want to tell a loved one something or that you miss them or are sad.
Use different materials like shiny card, bright coloured paints, feathers – anything to make your mobile eye catching and good to watch as it moves.
Ask a grown up to help – don't forget they will be feeling sad too.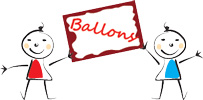 Balloons
Ballons Add a message to a piece of card and tie it to a helium balloon – then take it outside and let go.
Watch it soar into the sky taking your thoughts with it. Don't forget to hand tie the balloon and use a short piece of string for the message.
BUT you might want to think about the effects on the environment first – check out the
Marine Conservation Society website
for more information.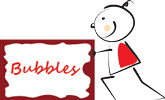 Bubbles
Bubbles If you are sad or thinking about someone you miss then go outside and blow some bubbles. By adding some food colouring to the bubble mix you can chase and catch the bubbles on a piece of plain paper and make a bubble thoughts picture for your memory box.

Remember that these bubbles might stain so check with an adult first and wear old clothes – stick to the grass as well or you could get coloured circles all over the patio!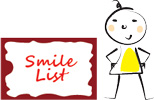 Smile list
Smile List Make a list of things that make you smile – it can be anything at all – jokes, funny faces, stories, memories, a silly song. Just reading it can help on a sad day.
Balloons – write a message on a luggage label and attached to a helium balloon – or a bunch of them and release into the sky.

Fireworks – ask a grown up to release fireworks into the sky, have a bonfire and invite family and friends.

Plant – seeds, bulbs or a tree – watch it grow. Make a special area in your garden with a seat where you go and sit and remember.

Make – a Christmas decoration to go onto the tree – add your loved ones name, the and a Christmas message.

Ask other people for their memories – write them down and put them in your memory box. You could make a book of all your memories.

Add you loved one's name to a Christmas wreath and take it to a grave or special place.

Light a candle – many people use this as a way to remember a special person on a special date. You may need a grown up to help and never leave the candle unattended.

Hold your own ceremony – light candles, read from your holy book, read poems or prayers, sit together holding hands and sharing memories.

Visit – go to the park, the zoo, the beach or a football match – anywhere you enjoyed being together and remember the fun you had. Start to make new memories.

Write – a letter or make a card or picture – seal it in the envelope and take it to the grave or where the ashes are scattered or put in your memory box.

Hold – your own ceremony – light candles, read from your holy book, read poems or prayers, sit together holding hands and sharing memories.

Cook a favourite meal or take favourite food on a picnic – invite family and friends, it could be a special place to visit.